PASHA organized an event, Launchpad 2013 this year in Lahore, Islamabad and Karachi. Now, they're also planning to hold one in Peshawar. I attended as an observer in their Karachi event and thoroughly enjoyed how people came to pitch their start-up and social innovation ideas to the forum. The format of the event is a mix of initial screening format used by VCs or angel investors with a pinch of flavor of the famous ABC channel program, Shark Tank. People/teams (22 in all) came over for a 5-minute open-format for presentation their pitches. The good points of the event were: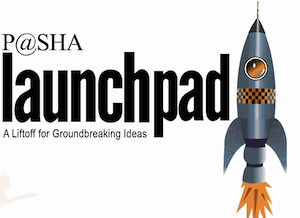 It provided an opportunity for the budding entrepreneurs to interact with the more experienced businesspeople and get a critical review of their idea, start-up or social innovation approach.
This created a platform for investors to get investment propositions in worthwhile projects.
The program facilitated the entrepreneurs need for connections to hone their initial business ideas.
I noticed a couple of things that could improve this event:
First, these events should be covered through a Google Hangout network – through this a lot more people can see the speakers, meet and advise them later on.
Second, they should allow the attendees to ask questions. The only people who could ask questions were judges; and expanding this to allow the attendees to ask questions as well could be great. One way of making it possible in the short available time is to have a live link where the attendees can send in their questions letting the moderator decide and play an active role in questions selection, if something worthwhile is asked.
Third, they should have a place where all the business ideas and the contact details of the presenters is put up, so that if someone wants to contact them later on, they can.
Fourth, they should contact people outside of the IT industry to come over – people who are savvy investors and can really vouch projects through effective funding and mentoring.
Fifth, they should link other communities and companies that promote entrepreneurship in the country and connect these to this event. It's a great initiative by PASHA but it doesn't have to remain that way. It's better to connect to others who share the similar purpose of promoting entrepreneurship in Pakistan.
Finally, PASHA should get in touch with several international incubators, investors, VCs, angel investors and other communities and link them up to make it a bigger event.
I believe these kind of events are making an effort in the right direction and doing something much-needed for the country, so this is commendable. Kudos to the organizers. I would also congratulate the judges who took the time to come over to help with the cause. All I'm trying to say here is that if they're doing a good thing in the first place, why don't make an effort to make it count on a bigger level.