What does middle class mean?
"The most perfect political community must be amongst those who are in the middle rank, and those states are best instituted wherein these are a larger and more respectable part, if possible, than both the other; or, if that cannot be, at least than either of them separate."                                                                                                                                                    – Aristotle
"The most perfect political community is one in which the middle class is in control, and outnumbers both of the other classes."

– Aristotle
These arguments below speak to the different ways the strength of the middle class affect economic growth and stability: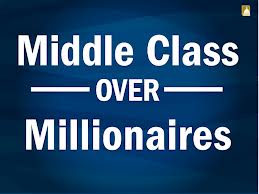 A strong middle class promotes the development of human capital and a well educated population.
A strong middle class creates a stable source of demand for goods and services.
A strong middle class incubates the next generation of entrepreneurs.
A strong middle class supports inclusive political and economic institutions, which underpin economic growth.
Historically, middle class has brought around all the revolutions, and brought changes for the better.
Middle class is usually a healthy section of the society, where physical and mental abilities of the society usually peak.
To sum up, a strong middle class is a prerequisite for robust entrepreneurship and innovation, a source of trust that makes business transactions more efficient, a bulwark against credit booms and busts and a progenitor of virtuous, forward-looking behaviors, such as valuing education. Moreover, middle class spending usually creates the most prominent multi-layered economic multiplier effect, since most of such spending would trickle down many levels.
   "I have to live for others and not for myself: that's middle-class morality."

– George Bernard Shaw