[JP-Facebook-Like]
When Michael Porter came up with Generic strategies, it was really a change in thinking. It seemed to be a different viewpoint compelling enough to be considered on its merit. The idea that any business can use one or more of the three core generic strategies (cost, differentiation and focus) came up as a revolutionary concept that consultants often focus on even today.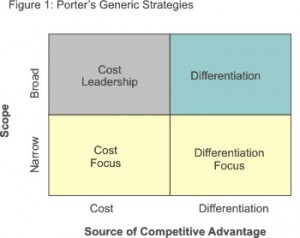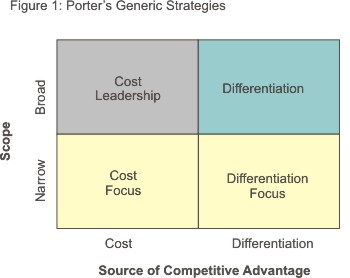 I often find people coming in asking how they can become the lowest cost provider in their domain of operation and seeking tips to achieve that end. I end up asking them about their businesses only to advise them not to invest their energies to becoming even lower cost provider as it's not about the lowest cost anymore.
People often intuitively find it difficult to understand that low cost is relative and I keep quoting this example:
Suppose you have a German-educated and trained engineer working in an automotive plant who charges you 200 euros per hour and you also have another engineer from some place like Somalia, who is willing to work at 20 euros. Which one of them is the lower-cost provider?

The answer, my friends, is that you can't ascertain yes. Most of the people get to the decision before analyzing the question, and say the Somalian engineer is the one, however, I have given no suggestion as to the creativity, productivity and skill set of the engineers yet.

Consider this additional information: If the German engineer finished work on 10 cars per hour, and the Somalian engineer needs 3 hours to finish only one car, how would the answer change now?


The German engineer is averaging you 20 euros per car, whereas the Somalian engineer costs you 60 euros per car. The latter ends up being thrice as costly as the former! Eye opening? Yes.

Moreover, we have not even considered yet the learning curve benefits, incremental quality improvements due to expertise, creativity, long-term relationship development factor, etc. that might accrue as a result of the right choice.

Please note that reference made in the above example was just illustrative and does not imply in any way superiority/inferiority of any person, place or education.
So even if you want the lowest cost, think out-of-the-box to figure out if that's really the lowest cost solution for you.
Happy Value Buying!