As some of you are aware, my wife and I decided to take our kids on a road trip this December with an initial idea to see and play in snow and make a snowman. After several rounds of stories about Frozen's Olaf, the kids clearly knew what to expect and it got them excited already. Now that we have completed our trip, most of the people whom we relayed our experience to mentioned they'd love if they could have these details, tips and tricks and that would encourage them to do something like this on their own. I'm posting this to help others who may be planning to venture out on a road trip in Pakistan.
We tried to enjoy our trip with a relaxed pace, visiting places that we wanted to go to starting everyday when we wanted to so it was a fairly freestyle flexible plan. Here's a link to our trip itinerary for those of you who are interested.
The places we covered or stayed in are: Multan, Mingora Swat, Malam Jabba, Bahrain Swat, Kalam Swat, Islamabad, Rawalpindi, Abbottabad, Nathiagali, Patriata, Murree, Khewra, Faisalabad and Bahawalpur.
The road network in Pakistan is pretty good especially with the motorways M1-M5 across KPK and Punjab, driving is not an issue. The belt which is slightly difficult to drive is from Hyderabad to Sukkur Rohri. There's hardly an issue with network throughout and wireless internet devices also work well for the most part. On the motorway, you can easily access help by dialing '130' as the motorway helpline and they're very responsive.
The best way to start off the journey is to start early morning from Karachi and head straight to Multan to break the journey by staying in a hotel. One can make a small pit stop or two leading up to Multan and rest overnight out there. As the City of Saints is famous for the Multan's special sweet "Sohan Halwa", it's best you buy from here only. There's a place called "Hussain Agahi Road" where you'd find the two most popular brands selling this halwa: "Hafiz" and "Rewari" – once you leave Multan, you'd find other random brands selling this halwa but none of those are as authentic as them, so don't wait to buy these later.
After a refreshing night, we headed out to Islamabad, and in our case we decided to chill out a bit and take a good night's sleep before going to the actual destination the next day. After having our breakfast, we took Swat Expressway to reach Mingora, Swat. The weather around mid December was decent, and surprisingly not-so-called. Do try the sweet "malta" fruit when you enter Swat, it's unbelievably good but ask to taste first to be sure they're the sweet ones. We decided to make Mingora our base for 2 nights as it's an hour's distance away from Malam Jabba and has much better resorts/hotels as compared to Malam Jabba. For the ones who have the budget, you may decide on staying in PC Malam Jabba, that way you'd be able to make the most of the snow activities in Malam Jabba. For Malam Jabba, snow boots are a must. You can buy them from Karachi or decide on renting them from there only. There are few vendors renting out boots for Rs. 100/pair.
While you're headed to Malam Jabba, and if you decide to drive all the way up there, make sure you have taken some medicine to avoid motion-sickness (something like Stemetil would help avoid dizziness and vertigo issues). While you'd drive up there, some of the things you would have to notice is hotels and car rental people would keep advising against it and sell you their packages, but it's doable if you are a decent driver and your car is in good condition. Also another thing is somewhere during the trip up to Malam Jabba, you'd inevitably come across someone selling you chains to put on the tires saying it's not a doable plan otherwise. My suggestion is that if there's no snowfall, you should not opt for the chain as that'd put an unnecessary strain on the tires and you'd be surprised to find auto rickshaws all the way up without any chains, so cars are no issue.
Malam Jabba has a lot to offer: Skiing, Chair lift, Ziplining, Jumping Castle for kids, and a lot of snow to play with. You can enjoy the piping hot pakoras and tea in that cold weather while enjoying the breathtaking views from the top.
Once done with Malam Jabba, we stayed another night in Mingora and moved on to Bahrain Swat. There's not much else out there except a range of mid-range hotels and being an hour's distance from Kalam, this makes a perfect base for onward travel. The road from Bahrain to Kalam is a bit tricky as it's a smooth road for the most part except a few patches of unpaved road where they're reconstructing bridges. This means you have to be careful speeding up on the route and also the unpaved roads can become slippery in rain/snowfall conditions. We drove all the way up to Kalam bazaar and then there's a forest right after. That's almost all you can do in your car, and you have to rent a 4×4 for places beyond there. You can rent a 4×4 for 2 hours or so to cover the 4-5 spots after this point for Rs.4000-6000, but if you don't want to do it, you can still enjoy the views in-and-around Kalam forest by hiking up there, and you'd see several areas with patches of snow blankets. This is most suitable to make a snowman or have a friendly snow fight with friends and family. The beauty of this place is very difficult to explain with words and probably the reason this is called "Switzerland of Pakistan."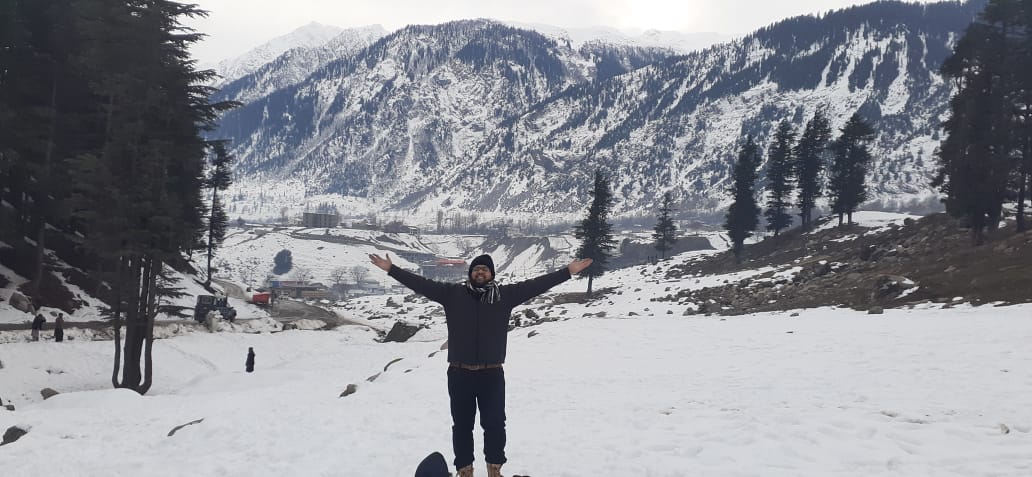 We didn't stay in Kalam because it gets very cold at night and doesn't have many good hotels with all the heating and hot water facilities. In fact, we didn't stay in Bahrain for more than a day and got back to Fizaghat to stay at a good hotel before concluding our Swat adventure. We also tried the food at a famous restaurant there called "Hujra" which has decent food which they serve in cozy family rooms (hence the word 'Hujra').
On our way back to Islamabad, we visited Faisal Mosque and then headed to Daman-e-Koh to check the view of the city. After that, we went to check out the Centaurus Mall, which is just another mall but has a bunch of familiar fast food joints. Since we planned to visit Ayub Park in Rawalpindi the next day, we decided on staying close-by at a hotel in Rawalpindi. Ayub Park is a must-see for a good day out with kids since it has rides for children of different ages, a mini-zoo with several interesting animals (not just tons of deers like they have in Bahria Town Karachi).
From there, we decided to leave for Abbottabad. It was a perfect place for us to stay at since it's an hour's drive from Nathiagali and 2.5 hours' drive to Murree. We explored Nathiagali one day (check out the Nathiagali Park and enjoy the Snowtube), kids can again play with snow for hours and it's generally a fun place to visit. Nathiagali also has a ton of accommodation options, but the mid-range cottages have water issues and you may find issues getting water in taps at night as temperature drops.
We ended up exploring Patriata and Murree the next day and decided to not stay in Murree because it was so full of people and we wanted to avoid staying in such places. It's almost 2 hours from Islamabad, so we went back to Islamabad to rest, and checked out Lake View Park the next day. We also enjoy the F1 Traxx park nearby in addition to a private Speed Boat ride in the lake. We were not rushing around, so stayed another night in Islamabad.
We headed to Khewra the next morning to explore Khewra Salt Mines, it's the second largest salt reserve in the world. It has a guided tour which you may take if you opt for the train ride to the inside of the mine. There you can see many important monuments in Pakistan created by using salt. Since Khewra is almost mid-way between Lahore and Islamabad, we had planned to make it a stop-over and head to Lahore, but due to the intense fog, we decided to de-tour and stay in Faisalabad for a night. When you are in Faisalabad, try out a Pakistani restaurant called 'Baba Tikka' – it is a place inspired by Kolachi and other Do-Darya restaurants and serves very good Pakistani cuisine. Another thing to try out in Faisalabad is cream chaat from Meher Fruit Chaat shop which is open 24/7.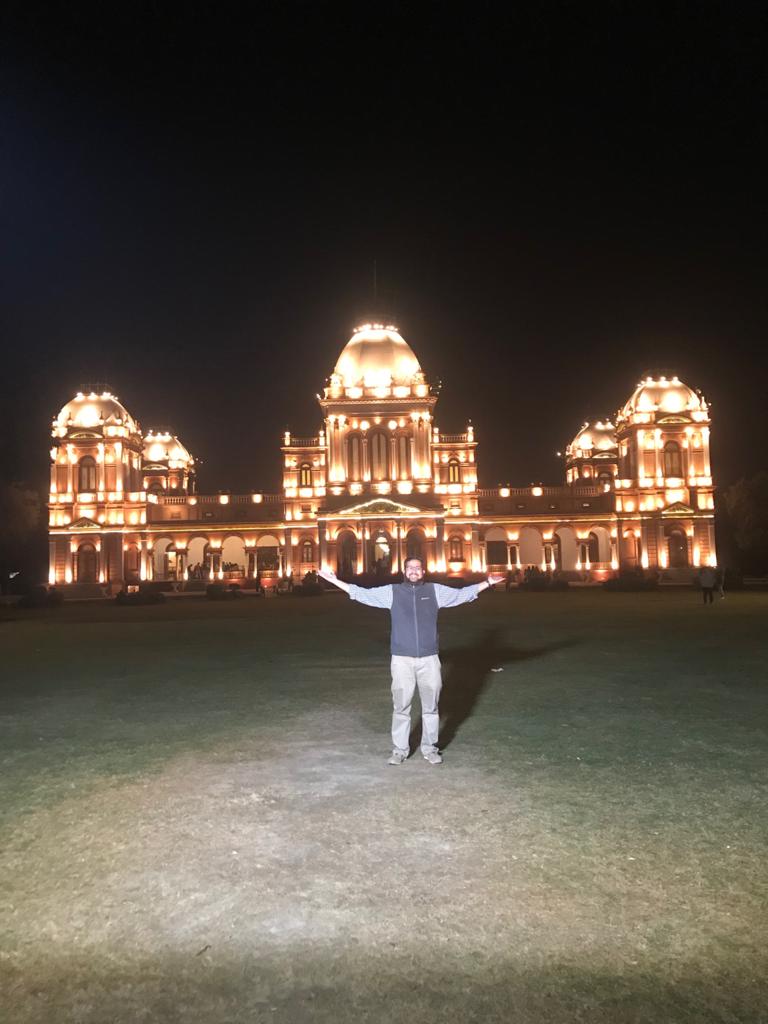 After Faisalabad, we went to Bahawalpur to explore the city of Nawabs and see a place called Noor Mahal. We enjoyed their light and sound show that lasts for 25 mins, and is worth attending. After the show, we checked the Palace itself which has now been converted to a Museum. We then explored Bahawalpur a bit more by going around, and checked-in to a hotel there for the night. The next morning we started off early and came back all the way down to Karachi. We barely made two pit stops, and since we were mentally ready for the long trip back home, it was manageable and went well.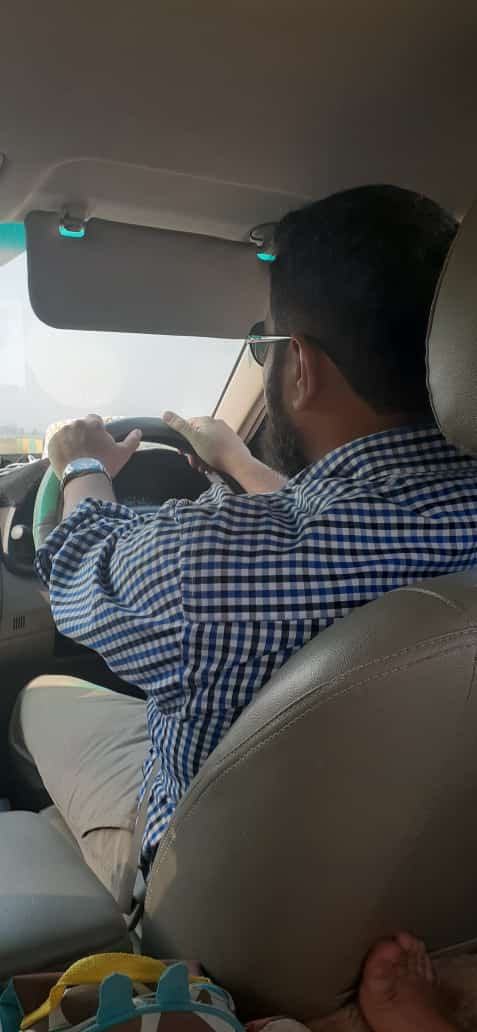 That's how we concluded our trip ending up with 4250km traveling across KPK, Punjab and Sindh.