Building investment portfolio is an art and science, the former because it's not a fixed formula you may apply to be successful at it, but there could a variety of ways around it, and latter because there's still some method to the madness around building it. One of the simplest, yet intuitive investment principles is of the Investment Pyramid: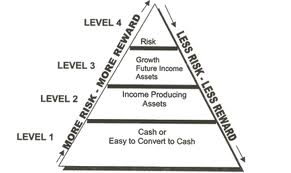 As you start out, there's no need to put all your hard earned money into speculative and seemingly lucrative scrips, but to create levels of investments, allocating a variable percentage of your portfolio to different types of investments. As you move up the pyramid, there's riskier, but more rewarding options.
Some people ask me why not invest directly in the riskiest asset classes, so that the return is the highest – It's simple to understand why having a solid investment foundation to build onto riskier assets is a more sustainable approach. The percentage allocation to each asset class would be determined by a variety of factors, including the investor's background, investment in question as a proportion of overall net worth, age, aversion to risk, liquidity requirements, etc.
When you are investing, it is important to keep this pyramid in mind in trying to expand out on a more sustainable investment strategy.