I made a buy call on FB 2 months ago at $27 – My basis for the buy call are pointed out below were: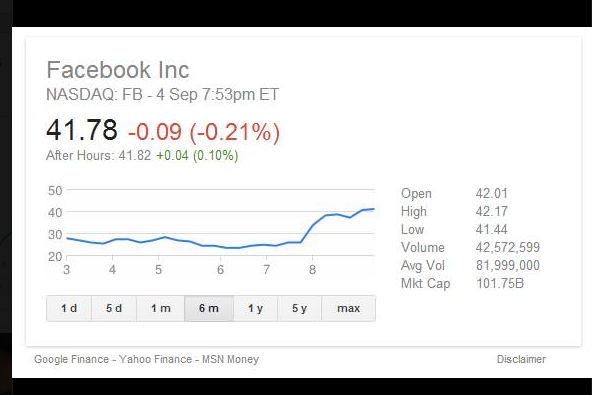 Fundamentally, the asset base, now a huge $15b as against $6b last year, and the new debt of $2b more than offset by liquid cash & short term securities. The goodwill was increasing at a rapid pace too. Also, notice that amongst the peers, this company stood at a massive EBITDA of $1.1b, 24%.
On the business side, then, one has to realize that the real value of a network increases exponentially with the number of people on the network (Reed's law/Metcalfe's law). Although the marginal increase is slower than before, but look at the size of the network, it's already huge. 

Practically, I saw a trend of many other leading, potential technology and related businesses allowing log-in through Facebook login, and several other features intertwined with the Social networking website. I, therefore, foresaw growth in RPU after a bit. 

Just looking at relative valuation through P/E only in this industry isn't of course the best way to assess the potential. Just look at so many loss-making entities there, so you can't compare well across peers anyway.
Here's the today's rate: