The way the world operates has changed a lot in the last 100 years, a lot of which can be attributed to how things have changed due to incremental and revolutionary technologies. People are now living healthier, longer lives in many of the world's advanced countries. With the rapid diffusion of knowledge and spread of technological research, we would see this trend grow. Think about our world. Wikipedia has this interesting table of global population breakup of top 10 most populated countries: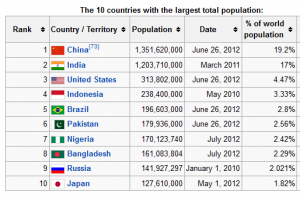 Notice how the top 3 countries in the world constitutes around 40% of world population. "Approximately 4.06 billion people live in these ten countries, representing around 58% of the world's population as of April 2012."
4 out of the 7 billion people live in 10 of the 196 countries. This would have implications on how marketing is done, where power circles of tomorrow would flourish and what trade balance will be like.
Moreover, 3.27 billion people form the current global labor force. With the median age of 28, the world will choose the products it will consume and the services it will pay for.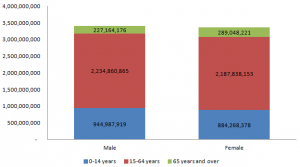 Political leaders, businesses, marketers with a global outlook will only be ahead of the game if they understand this global demographic. Increasingly, the world is becoming so interconnected that almost anyone expecting to do meaningful work for the networked economy needs to take note here.