[JP-Facebook-Like]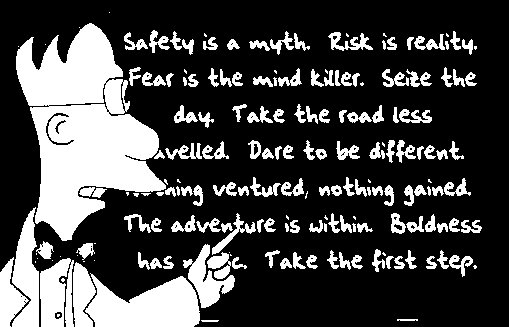 Entrepreneurship is a combination of three core things (however, please note that it's not a recipe mix that will always bring out a great entrepreneur – it's rather more like a perspective of looking at this concept encompassing various aspects of entrepreneurship):
Personality: Includes upbringing of a person, confidence, interpersonal skills, ability to think on the feet and solve issues all the time.
Opportunity: This is the break that one gets to have. Most people I know who are curious to become an entrepreneur seem to be waiting for this perpetually. I don't think there's anything such as a big break. Life keeps giving you opportunities all the time, and you can only make good anyone of them if you are ready to. Moreover, an opportunity could be an opportunity for you because of your experience or academic background or interest in a particular domain.
Risk: This is the most interesting part of entrepreneurship. It's an entrepreneur's second nature. Risk doesn't mean going wild with your whims, but actually refers to calculated risks an entrepreneur has to take all the time.
But even with these three, there's one thing that must be very clear in any business opportunity. That thing is summed up in this one question: "What's the deal?"
Deal: is all about identifying the core of any business opportunity. It is difficult to focus on this and identify what's the real deal in a business, but with time, good entrepreneurs command this almost instinctively. I'll be writing more about "Deals" and deal-making in the coming weeks.